Why Magento for e-commerce?
Magento is a feature rich and most reliable ecommerce platform launched in 2008. In 2020, it is leading the
market and widely adapted by the store makers because of its scalability, robustness and advance
features it holds that serves the requirements of any sort of e-commerce platform.
One of the important aspects which differs Magento from other e-commerce platform is the codebase that is developed to bring solutions of the issues and challenges comes in the path of SMB's and Enterprise eCommerce deployments.
Higher number of extensions, easy integration and excellent modularity boost Magento as the most adaptable e-commerce platform.
icon 400,000+ Online Merchants use Magento.
icon 25% of eCommerce Market Share is hold by Magento.
icon 200,000+ Developers Worldwide are available for Magento development.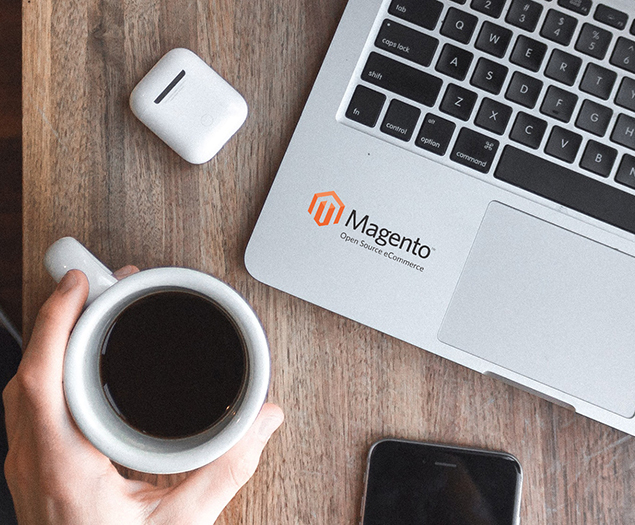 Our Services
The ecosystem we figured for e-commerce takes your business from making goals to achieve them with the
optimum use of technology. We deliver you Magento web design, development and migration services
sthat accomplish customer's and seller's objectives and targets.
icon
Custom Magento Web Development
Our Magneto developers code customer-centric solutions for different domains and verticals as per client's requirements.
icon
Develop & Integrate Magneto 2 Shopping cart
We develop and integrate our e-commerce solutions with your CRM, warehousing platforms, business solutions, etc.
icon
Custom Extension Development & Integration
Our developers develop and integrate Magento 1.x and Magento 2 extensions to enhance functionalities of websites.
icon
Responsive Theme Development
We deliver seamless and beautiful brand experiences by developing and integrating responsive Magento themes.
icon
Speed Optimization
Using the advance features of Magento 2 and code & design optimization we enhance the speed of your website.
icon
Order Management System
We craft Omni-Channel and Multi-Vendor e-Commerce solutions full of features to meet your business goals.
icon
Enterprise & Cloud-Based E-Commerce Solution
We develop and integrate complex, cloud-based and multi-purpose solutions for SMB's and large organisations.
icon
Digital marketing services for your store
We market your e-commerce store with our social media, content and search engine optimization services.
icon
Migration, Upgrade & Maintenance
We migrate e-commerce stores to Magento 2 and provide real-time upgrade, support and maintenance services.
WHY CHOOSE WDMTECH AS YOUR MAGENTO
DEVELOPMENT COMPANY
We are into e-commerce development since 2013 and delivering solutions which are helping
clients to reach their target market. We have team of Magento experts who follow agile process of design,
development, testing and deployment to yield a result oriented Magento ecommerce solution.
icon
Goal-Oriented Process
Our practical approach and agile process brings out a solution that serves all your demands.
icon
Committed Magento Experts
Our Magento specialist deliver omni-channel & multi-vendor solutions for multiple domains.
icon
Competitive Pricing
Our pricing model is transparent and reasonable, we consider your budget expectancies.
icon
Productive Support & Maintenance
We assist you with installation, troubleshooting, maintenance, upgrade and customization.
MAGENTO 2
Magento 2 is boosting the Magento marketplace by capturing the market with record breaking statistics
and is one of the most powerful e-commerce store development platforms. It is now powered
with next-generation architecture, better experience, 50% faster page loading speed,
built-in integration with payment gateways, backup/rollback system etc.
Magento 2 Implementation and Migration
We are having a smooth transition plan and process of migrating e-commerce Magento solution to Magento 2 platform.
Our Magento experts are well experienced in upgradation, integration, customization and resolving
any kind of issue during migration process.
icon
Migration Plan Staging
icon
Environment Preparation
icon
Replicate Magento 1 Database & Site
icon
Implement Magento 2.0 on Client site
icon
Migrate Data from to Magento 2.0
icon
Extensions & Themes Migration