Master The Technology to Serve The Best for Industries
We are always one step ahead to serve you with latest technology. We deliver the solutions with latest tech into the market to keep our clients up to date.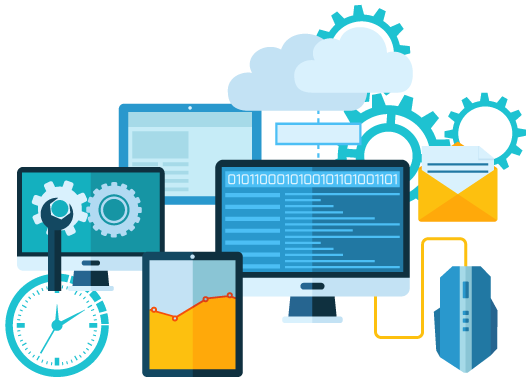 Skills We Serve You With
WDMtech is known for delivering proven and approved solution, products and services to rely on which represent a key competence and absolute reliability into the thriving market. We develop Web and Mobile Software Solutions supports Cross platform, Multi-Platform, Native and Platform Independent solutions.
Joomla
Deliver user-friendly and easy-to-use web-based solutions.

WordPress
Craft web solutions with lots of in-built plugins and features.

Php
Design custom solutions in core PHP for different domains.

Mysql
Fastest and most reliable Database to manage contents.

Android
Native and Hybrid app solutions for android mobile users.

iPhone
mCommerce and enterprise solutions for iPhone users.

Phone Gap
Get a cross-platform mobile app fulfilling all business needs.

Ionic
We code reasonable cross platform apps using Ionic platform.

Ajax
Get faster, interactive and asynchronous dynamic web access.

Java
Being on top with JAVA-SE, JAVA-EE, and JAVA-ME solutions.

Facebook App
Step up with AI and AR with social presence and integration.

JavaScript
Our coders deliver the best scripted web and mobile solutions.

Html5
Dynamic & responsive web solutions with offline App Cache.

Bootstrap
Get responsive and dynamic websites with open source toolkit.

Laravel
Enjoy effortless Authentication, routing, sessions, and caching.

Symfony
HPC for compute-intensive risk and analytical applications.

Node
Get true JavaScript experience for your web applications.

Backbone
Serve you apps with RESTful JSON interface based on MVP.

React JS
Perform on top with scalable, simple and fast REACT apps.
React Native
Upgrade your app to faster, reliable and secure framework.

Angular
Have Augmented browser-based apps with MVC capability.

Vue
Well-designed user interfaces using progressive framework.

Require
Our experts of Require JS bring the best of apps for you.

Graphgl
Valued solutions for complex systems and microservices.

Gitlab
Support service for GIT repository on centralized server.

Nginx
Web server with reverse proxying, caching, load balancing.
Apache
Set up and maintain apache web servers for our clients.

Redis
Redis database increase throughput and reduce latency.

Aws
Inexpensive cloud service with AI, IOT & machine learning.

Swift
Clutch with customized apps for macOS, iOS, watchOS, etc.

IOS
Stay ahead with iOS apps using XCode and other platforms.

CodeIgniter
Launch an inexpensive and secure website within no time.

Salesforce
Automate your business with our ERP solutions & services.

Odoo
Take full control of business with CRM and ERP services.
HubSpot
CRM to manage marketing, sales and customer support.

Zoho
Manage businesses with award-winning web-based CRM.
E-commerce Development is something
we naturally adapt
Our years of experience and deep knowledge of our IT experts makes us among the top leading companies on
E-commerce platform serving for major technologies. We ensure high quality of product and winning hearts
and minds of our numerous customers from all over the world.

Magento
Empower retailors & brands with best eCommerce platform.

Prestashop
A ready-made solution for all your eCommerce businesses.
Opencart
Multistore e-commerce platform with thousands of plugins.

Cs.Cart
Powerful multivendor mobile and web e-commerce solution.

Shopify
Most famous, fully-hosted cloud based online store solution.

WooCommerce
B2B and B2C solutions built on WordPress for online stores.

Virtuemart
We deliver you online retail & store Joomla based solutions.

Hikashop
Have multi-vendor online store built on native Joomla CMS.