Need of today is the technology of tomorrow. Technology have a say in the way we live, travel or work. Our lifestyle, eating habits, way and means to express ourselves, way to shop, way to communicate etc. is getting immensely influenced because of the technology we have.
This change in the society leads to the change the way of executing businesses. People who used to roam around market to market in search of the best and cheap product are now getting them within few clicks. With the trend, more and more markets are bringing their products and services online.
At this point of time, website and mobile application is the very basic need for any business who wants to reach the higher customer base. One can make new customers and engage existing customers spread all over the world from a centralized location with lots of amazing discounts and offers on services and products.
E-commerce or electronic commerce is the way to buy and sell products and services by conducting commercial transactions electronically on the internet. E-commerce accord a freedom for a businessman to do a trade without barriers of time and distance.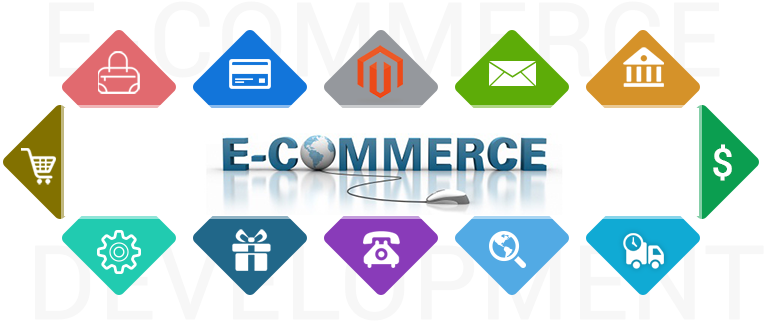 Before going into the details, we should go through some of the e-commerce amazing facts, which will also give you an answer of "Why to bring business online?":
More than 80% of 4.3 billion internet users use e-commerce to purchase goods and services.
Online shoppers in the 31 to 44 and 55 to 65 age groups spend the most money shopping online at 68 percent.
By 2040, around 95% of all purchases are expected to be via ecommerce.
Baby Boomers spend more per online transaction than Generation X and Millennial shoppers do
The total value of global retail ecommerce sales will reach $3.45T in the last quarter of 2019.
The market of e-commerce development brings you with lots of latest shopping cart websites and applications. There are different sorts of large shopping carts to provide e-commerce business solutions. Buyers and sellers both can register and conduct sales and purchase with unlimited transactions. Some of the e-commerce business models for buyers and sellers are:
Business to business (B2B)
Business to customer (B2C)
Customer to customer (C2C)
Customer to Business (C2B)
Business to Govt/public sector (B2G)
Customer to Govt/public sector (C2G)
All the e-commerce shopping carts are developed on certain platforms. Some popular CMS and platforms to develop shopping carts are:
Joomla
Magento
Shopify
VirtueMart
WooCommerce
JoomShopping
Hikashop
J2Store
eShop
BigCommerce
OpenCart and many more….
E-commerce not only changed the way to shop but it also came out with new ways to reach the customers. Business revenue models:
Drop Shipping
Wholesaling and Warehousing
Private Labelling and Manufacturing
White Labelling
Subscription Ecommerce
Product Revenue Models
What Counts for Ecommerce: Affiliate, physical, and digital products all fall under this purview, as do services of all kinds that involve an exchange of funds online.
Single Product Model: A solid product with high demand
Single Category
Multiple Category
Affiliate
Hybrid [Single Category + Affiliate]
As technology is advancing and getting popular, there are numerous firms providing support for web and mobile based e-commerce development services and solutions. One of the prominent, highly experienced, professional and result oriented company specialized in e-commerce is WDMtech.
We are, well-known, e-commerce solution company, brings all round e-commerce solution with cloud, web and e-commerce app development. This e-commerce web design agency provides the best and honest solution in affordable rates as per the requirement. WDMtech e-commerce specialized e-commerce web developers are always ready to serve you with any sort of Integration, development from scratch, modification of cloud, web and mobile resources and custom e-commerce solutions.
So, hurry up, and make a vital decision to bring your business online without giving it a second thought. We are ready to be a part of your success and will make you updated with latest technology in coming future. Visit www.wdmtech.com and choose your required service or product, chat with sales team for further assistance.