At WDMtech, we believe that technology is the future of our world. We need to invest our businesses and enterprises in smart technology that effectively communicates to consumers or other businesses. And to effectively do this, you have to meet the requirement of client to get them interact with the latest technology.
Mobile responsiveness is crucial to have a viable business platform. That means people can access your website when they're in their home or waiting and scrolling at the bus stop. If you show your target audience that you care enough to be there for them whenever they need you, you'll have a successful brand.
Our team at WDMtech spends our time innovating our skill sets, so our clients can have the best in the industry. We care about our clients and want their businesses to elevate passed just an idea once we create with them.
We take the time to listen to client concerns, help understand their goals, and effectively execute. The project isn't done when we finish our work. The project is done when the client is happy.
One of our clients, Dutch Powerhouse recently submitted a review of our time together and our services on Clutch. Clutch is a B2B research firm that connects companies with businesses based on in-depth, honest client feedback. This methodology ensures that clients find the perfect match for their projects.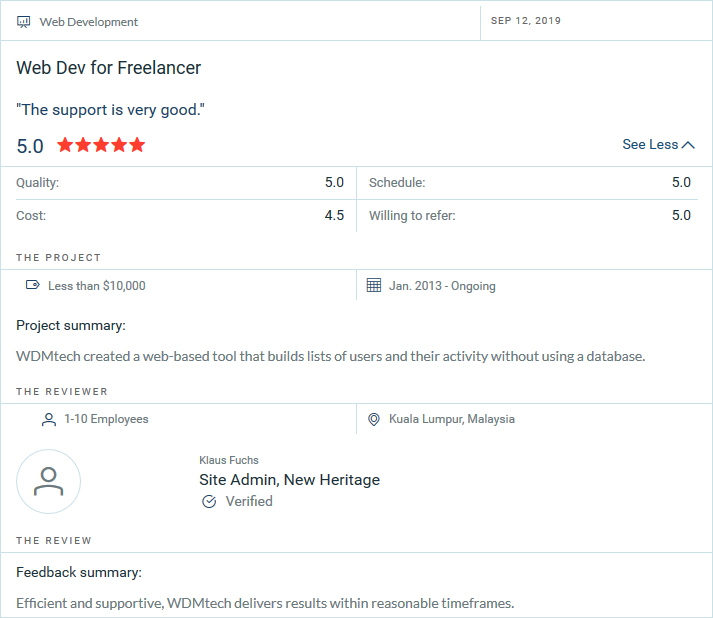 "The solution is a huge improvement for our clients' website and their visitors. Their flexibility during our agile approach was impressive." – CEO, Dutch Powerhouse
Client feedback is an important part of our work because our team needs to stay informed about how we're going as a company and how we create and develop applications as an IT services provider.
We're really proud of the work we've been developing here since 2013. You can see our digital portfolio showcased on Clutch's sister-site, Visual Objects. This site helps build your audience for future clients so they can see your work easily on an unbiased platform.
It's also crucial our team to stay updated about the web development industry. You can find business insights on The Manifest, which helps people see the best companies in the game and learn insights that are imperative for business objectives and strategies.
Thank you again to our client Dutch Powerhouse for helping our future customers understand why they enjoyed working with us. It's important to us to keep reinventing the way we do business and the way we use creative technology that lasts.
Come say hi over on our contact page to schedule a meeting for a future project. We look forward to it!